Hello Friends and Happy Thursday!
I have an adorable card to share with you today and a tip on how to make your images on your card  POP!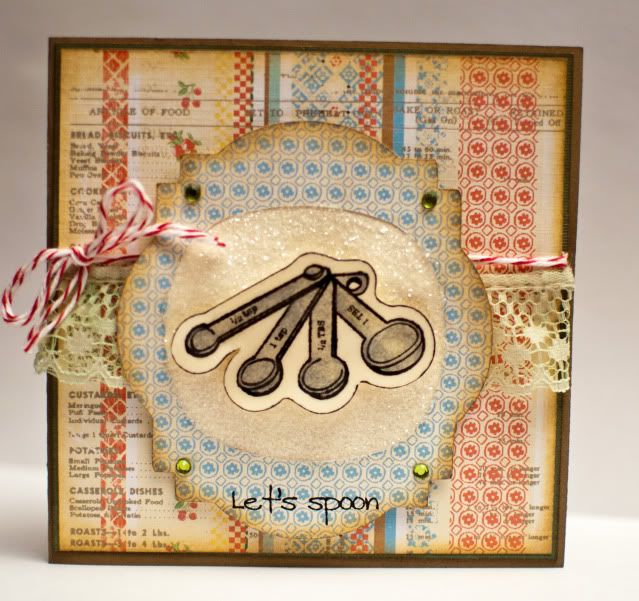 This kitchen card is 5×5 with each paper layer decreasing by 1/4 increments. The paper is from Little Yellow Bicycle, a paper line that I am really starting to fall in love with. I chalked around the edges of all paper and card with Catseye Chalk Ink in Bronze.  Because I lake in the Spellbinder area, I tend to reach for my Lacy Labels Cricut Cartridge when ever I need to make something that needs a Spellbinder feel to it.  I cut out a piece of paper with scissors that would fit on the back of the label. I wanted to focus all the attention onto the spoon stamp in the middle. I stamped the measuring spoon stamp from Pink By Design " What's Shakin? " Image Stamp Set with Staz On ink in black, onto the " What's Shakin? " SVG that goes with the stamp. Let me tell you that having a SVG that goes with the stamp makes life so much easier. Could you imagine cutting this with scissors. The SVG makes the the stamp flawless! I colored in the image with Prisma colored pencils and mineral spirits.
Now for the *trick*!
I used my finger and applied Glossy Accents to the entire stamped image. I also used Glossy Accents to adhere the glitter to the background of the frame. I think this makes the stamp the main focal point of the card and really makes your card POP! I am addicted to Glossy Accents and there really is 100 uses for that little bottle of wonder. I inked around the stamped image using a Martha Stewart black pigment pen. I adhered the image to the glitter using a pop dot. Devine Twine in Cherry, and ribbon sprayed with Tattered Angels in Honeydew to even out the middle of the card. 4 green accent gems to the corners of the label and finally I stamped " Let's Spoon " from Pink By Design's Kitchen Pun's Sentiment Stamp Set.
I hope you all enjoyed my card and my little tip for the day! Have a wonderful weekend!
Meriah
404